Faith Home Christian Recovery
144 Faith Home Road
Greenwood, SC - 29649
(864) 223-0694

County: Greenwood
Call 1 888-648-4835 and speak now with an alcohol or drug abuse counselor.
Call now. This service is free of charge and there is no obligation.
---
Hours of Operation
7-Days a Week from 6:30 AM – 11:00 PM.

No cost to program residents, an 8-Week residential Christ-centered and 12-Step recovery program and facility to over 40,000 to Men and Women seeking freedom from alcoholism and drug Addiction.

Our program is based on the fundamental belief that the solution to an individuals' problems as the result of alcohol and drug addiction can be found through a faith in God and the application of a program of recovery.

Faith Home provides separate homes for our men and women residents during their 8-week residency. Our program is simple with a disciplined approach to helping residents achieve a balanced life of recovery centered in the word of God, healthy living, responsibly working, helping and serving others, 12-step meetings and church attendance.

Admissions
Our Admissions Process & Policy

You must be willing to commit to an eight-week in-house program.
Once we receive your admissions application via our ONLINE APPLICATION, ONLINE FORMS SUBMISSION, or speaking with an ADMISSIONS SPECIALIST, AND have been advised by Admissions of your APPLICATION ACCEPTANCE, you MUST call every day to check in with Faith Home by calling (864) 223-0694 between 6:30 AM to 11:00 PM 7-days a week.

*IMPORTANT – FAILURE TO CALL FOR 4-DAYS of will result in your denial for program acceptance and removal from our waiting list. The waiting list time averages 3-4 weeks for men and 5-6 weeks for women. We recommend you seek a medical detox if required as we are NOT a medical facility.

We will contact you 3- 4 days prior to your date of admission to schedule your arrival to Faith Home to advise you of your admittance and answer any questions at that time.
All applicants will be drug tested upon arrival to Faith Home. It is imperative that your system is clean of alcohol and drugs including prescribed opiates, benzodiazepines, psychotropic or mind-altering medications.
We require you handle any outstanding personal business (ie. legal, medical, financial) prior to coming to Faith Home. Once you are here leaving to attend to personal business is not allowed.
Someone must drive you to Faith Home. No personal vehicles are allowed.
VERY IMPORTANT! You MUST bring a Picture ID and Social Security card. You will not be admitted without these!
During your residency, only immediate family can visit or receive phone calls. Common law spouses, boyfriends or girlfriends are NOT allowed to visit or receive phone calls – this is strictly enforced. Visitors are required to provide proof of relationship to the resident ( Marriage or birth certificate).
We reserve the right to refuse admittance at your scheduled admission time and date. Failure to pass the drug screen, breathalyzer or arrive without a photo ID and or Social Security card will result in denial of program admission.
If at anytime during the admittance process you appear insincere, we reserve the right to deny your program admission.

Items to Bring

Five (5) sets of clothing, personal hygiene items, no cologne, after shave, mouth wash, or any products containing alcohol.
Wash cloths, towel, pillow case, nice clothes for Chapel, shower shoes and robe.
Bible, Alcoholics Anonymous or Narcotics Anonymous books and literature, Christian books, devotionals
Writing materials, journal, pens, envelopes, stamps, money for Walmart and canteen.
Music CDs – Christian only.


Apply online at the website provided above.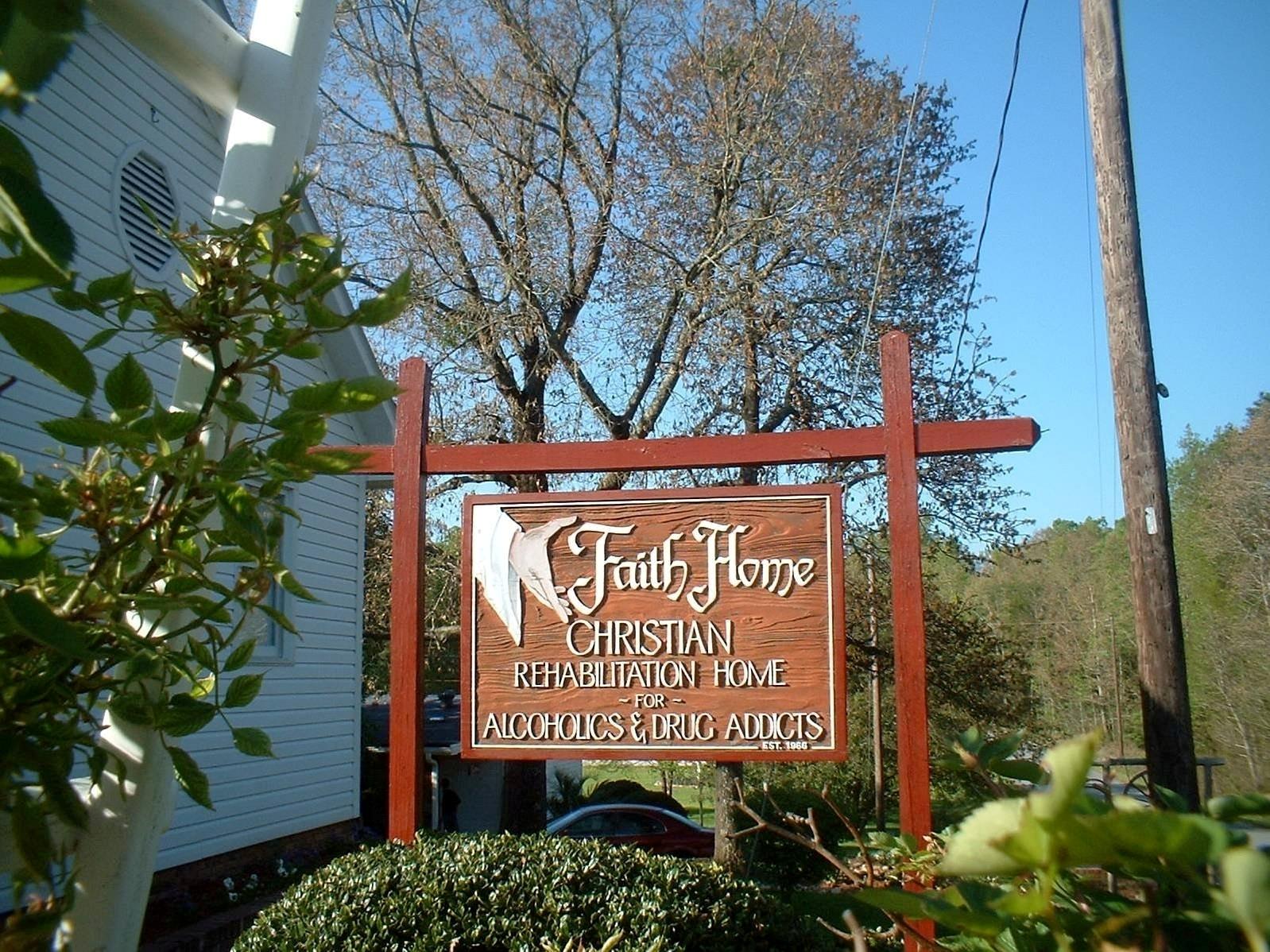 ---
Are you familiar with Faith Home Christian Recovery? Share your experience.